3 Reasons Why Gulf can be Your Favourite Work Destination!
---
It is difficult living in India and not knowing at least one person who has worked in the Gulf. Be it your next-door neighbour, a distant relative, or an old friend; we all know someone who has taken up a job in either UAE, Kuwait, Qatar or Saudi Arabia. They come back every once in a while, to tell tales of a great life.
Is it all true?
Yes, it is.
Here are 3 reasons that will make you want to pack your bags and move to the Gulf countries.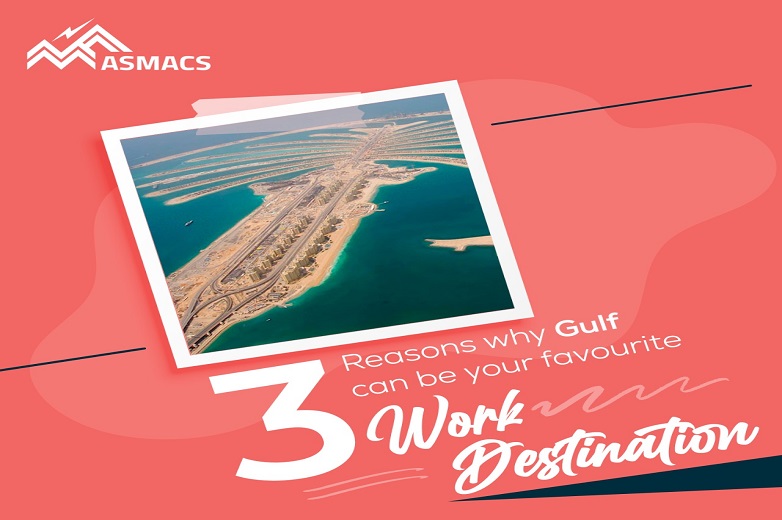 1.The Equal Opportunity Employer Market:
This is the reason that makes the employment process in the Middle East drastically different from other developed countries. While countries such as Germany, USA, France and Spain may prefer their own citizens when employing a workforce; The Gulf countries strictly adhere to your skills, talents and are least bothered by your nationality.
They believe in hard work, discipline and innovation, without a bias towards citizens or expats. Furthermore, it is much easier to get a job offer as an Indian in the Gulf, due to our strong economic ties over the course of years.
2.The never-ending need for skilled labour:
The GCC i.e., UAE, Kuwait, Saudi, Oman, Bahrain and Qatar are leading global innovation when it comes to sectors of energy production and distribution, transport and logistics, architecture and luxury hospitality, and even healthcare.
Largely profitable projects such as Saudi Aramco's Manifa and Sadara Mega-projects, Khalifa Port Container Terminal Expansion Project announced in December 2020, Agility's Global Healthcare Transport that has 2.2 million m2 of logistics facilities, etc., continue to increase their recruitment needs as they grow.
After the Covid-19 Pandemic, rather than trying to shorten the physical length of supply chains, companies are considering the resiliency offered by digitalization and a deeper integration of technology.
Project Neom, slated to become the most futuristic city, is gearing up to install the largest solar power field in GCC. As a result, there is a shortage of workforce skilled in IT, Software Development, Architecture, Engineering, Construction, Telecommunication, Manufacturing, Logistics, Retail, and Security.
Non-technical fields such as agriculture, horticulture, pisciculture are also gaining precedence due to the Doha, Qatar Horticulture Expo and various other plans to incorporate sustainable development.
Hospitality sector is predicted to boom as Qatar hosts the infamous FIFA World Cup in 2022. There is a scope to put all your skills to the best use by helping to build a highly modern civilization.
3.A satisfying, fulfilling life:
Boasting high wage levels, the GCC countries prioritize the work satisfaction of their employees.
The lower housing costs and minimal utility bills ensure that you can spend most of your income on yourself.
The GCC countries also enjoy one of most lenient tax systems in the world. The average total tax rate for the entire Middle East region is 23.6%, which is much less than the global average of 44.7%. A lower tax means that you can enjoy a higher quality of life, taking advantage of world-class facilities of entertainment, cuisine, tourism and healthcare.
Through continuous technological advancements, the GCC is soon to become the futuristic hub of the world. The influx of both technology and culture is sure to make your life colourful.
Looking at these 3 reasons will surely want you to start planning your professional life in the Gulf. Career Development in the Middle East is a valuable addition to your resume even if you do not wish to settle down. Afterall, it is impossible to resist a good paycheck and a satisfying work environment.