Krishna Trading is a dynamic and progressive general trading firm established by Mr. Dev Mohanty. It holds an IE license and mainly deals with industrial, chemicals, re-conditioned marine spares, engines, and pumps. This trading division was established with the sole aim of promoting quality brands and satisfying the needs of clienteles. Krishna Trading also offers procurement support to the projects for obtaining several high-quality engineering products from India through their own network offices.
At Krishna Trading, we offer several products, especially from India.
Iron Ore/Chromite
Clinker
Heavy Engineering Products
Repaired and Serviced Engines & Marine Spares
Rice, Pulses, Spices, and Tobacco
Ready to cook/consumables
Bauxite / Manganese
Pharmaceutical Products such as formulations, bulk drugs, intermediates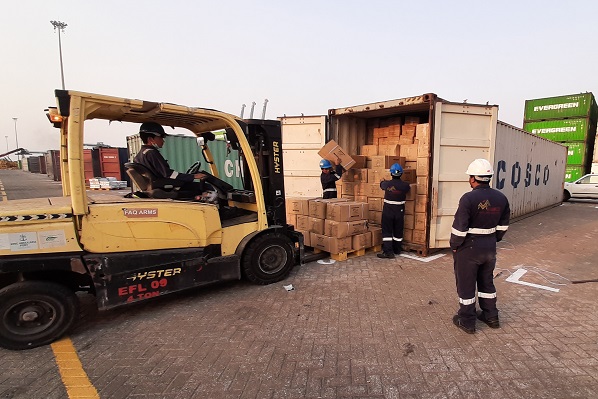 ASMACS has reputable network offices in various parts of India and abroad too. As ASMACS is span across the world, it has the advantage and edge over others in efficiently representing manufacturers to promote their products and services in India and abroad.
ASMACS Qatar is a distributor for R&M (Reichle & De-Massari AG) global cabling and high end-communication networks solutions. The Solutions are used by network operators, in office buildings, data centres, in apartments, as well as in industry. R&M is the market leader in Switzerland and belongs to the top players in Europe, the Middle East and in Asia. Currently ASMACS provides these solutions in GCC region.
ASMACS Trading Division handles following products
ASMACS Trading Division is offering General Trading Services in Commodities, Metals, Minerals, Engineering Products, Networking products and Industrial Chemicals.
Export
---
Reconditioned Engine and Generator
Machinery and Plants
Scrap metal (ferrous and non-ferrous)
Import
---
Plants, Equipments
Water Treatment Plant (Mobile)
Some of the materials handled are as follows
Heavy Melting Scrap (HMS I & II)
Copper Cable Scrap
Copper Cathodes
Bauxite / Manganese Ore

Chromites / Iron Ore
Copper Ore
Clinker
Engineering Products like Flanges, valves,
Pipes, Fittings, Flow Meters for Oil / Gas Plants


Reconditioned Engines / Marine Spares
Pharmacy Products
Chemicals / Plasticizers
Scrap Metals: HMS-I & HMS –II grade metals
are offered to our clients

ASMACS' Trading Services has the advantage of its network of offices – globally… along with with the resources to source the product of your needs. Our responsibility is to continuously create value for our customers by relentlessly seeking and identifying opportunities into viable projects for the group.
Our aspiration is to boldly contribute to your organizational growth by providing products and services that enhance your competitiveness and quality. Our contribution to be meaningful, we ensure the success and quality of our task we engage in. We ensure 100% satisfaction to our customers by direct participation of the members of our group in critical paths of the value chain.
Quality projects, products, and services are delivered through quality management, quality systems, and quality culture. At ASMACS we achieve this quality culture through teamwork, unity, loyalty, integrity and above all professionalism.
Trade Representation
With the established network offices of ASMACS in various parts of India and abroad India, ASMACS has the advantage and edge over others in effectively representing Manufacturers / Service industry to promote their products and services in India and abroad.
We will be Happy to Leverage our Skills for Your Benefit